Woods has built a reputation for manufacturing high quality, durable attachments – as do many suppliers of agricultural tractor attachments. What makes Woods different? We have talented teams that listen to our customers, develop ideas, and build incredible products. These teams innovate day in and day out to make sure Woods attachments not only perform well, but are safe to operate and simple to maintain.
Woods products are sold through a North American dealer network, supported by a dedicated sales force. We also enjoy strong private label relationships with several tractor manufacturers. As a result, you will also see our attachments in livestock operations, recreational areas, and market gardens. Wherever you find hardworking people digging, growing, moving, and mowing, you'll most likely find Woods attachments.
To illustrate our story of innovation, we've highlighted many of our patents in the timeline below. For the past 75 years, we've been manufacturing tractor attachments to help you #GetAfterIt in the many places our products are used, such as mowing roadsides, maintaining pastures and waterways, shredding crops, and countless other applications.

Learn more about our Innovations
1946
Leonard, Keith and Mervel Wood invest everything they have in their new creation, the first tractor-mounted rotary cutter, and Wood Brothers Manufacturing Co. is founded. Their new business began in a 4,000 square feet Quonset hut two miles south of Oregon, Illinois.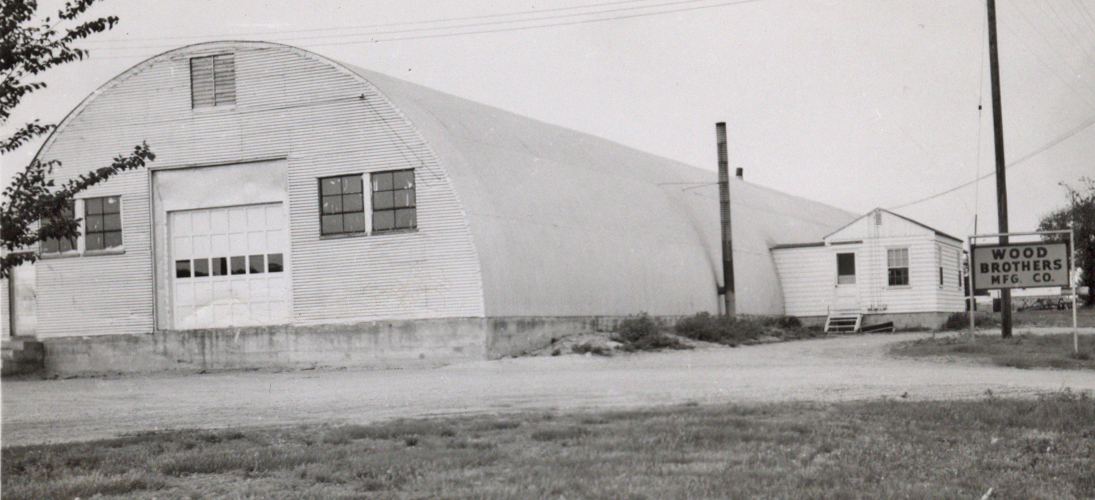 1950
1954
The Wood brothers introduce the under-mount mower – 42 inch Model 42C.
1957
The Model 59 Under-mount Mower was introduced at the Farm Progress Show in Gibson City, Iowa.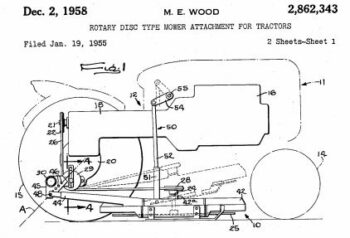 1958
The Wood brothers patented a tractor mounted Rotary disc type mower attachment for tractors – US Patent 2862343.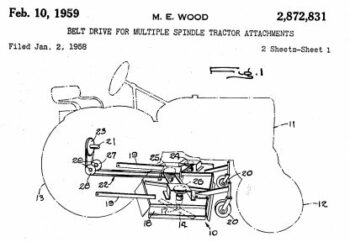 1959
Mervel Wood patents the adjustable belt drive – US patent 2872831. Designed for a drive system with a single belt that runs from the rear PTO shaft on a tractor to all three spindles on a mower.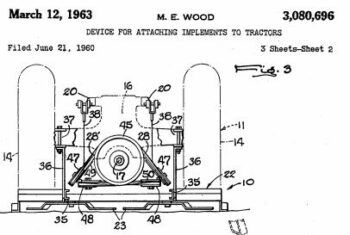 1963
Mervel Wood patents a device for a mounting system that attaches implements under low-slung tractors – US patent 3080696.

1963
Woods ships the first ever Batwing Cutter to be introduced to the market.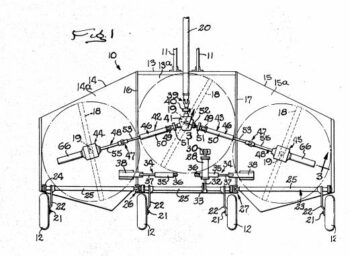 1970
Patent for the wing drive system on a Batwing mower – US Patent 3527032.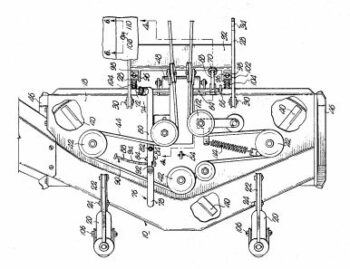 1972
Patent for the lift system on an undermount mower for garden tractors awarded – US Patent 3680292.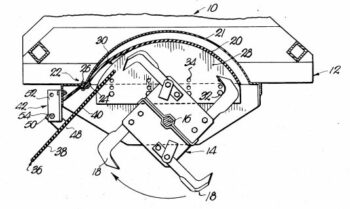 1973
Patent for a flexible guard on tillage equipment that prevents mud, dirt and vegetation build up awarded – US Patent 3768572.
1976
Patent for a bale grabbing device that can pick up several bales at one time – US Patent 3944274. Provides a new and improved bale handling system for connection to the forward end of a tractor mounted loader.
1976
Patent for an improved latch design on a bale accumulator that keeps the door closed until filled – US Patent 3958823.
1977
Patent for a hydraulic cylinder with a hollow piston rod – US Patent 4003297.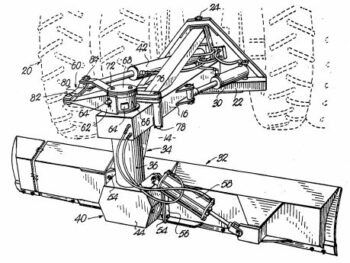 1978
Patent for a hydraulic controlled rear blade that has a relief function that allows flow between cylinders – US Patent 4124080.
1978
Patent for a hydraulic circuit that shifts the flow of fluid from series operation to parallel operation – US Patent 4129258.
1981
Patent for a hydraulic grapple that attaches to a bucket quickly and a linkage that provides more clamp force – US Patent 4285628.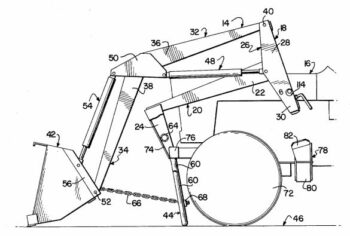 1982
Patent for a loader quick attach system – US Patent 4345870.
1983
Patent for a tractor 3-point hitch finish mower – US Patent D271398.
1983
The first Woods rear mount backhoe ships.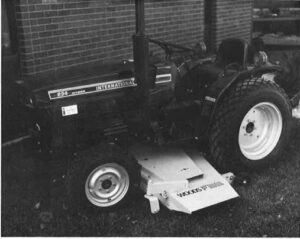 1984
Woods introduces the F35 undermount mower at the Lawn and Garden Show in Louisville, KY.
1987
Patent for a loader quick attach system – US Patent 4637772. This new Loader Mount provided improved mounting structure for attaching a tractor mounted loader and overcame many of the problems related to previously available loaders.
1989
Patent for a tractor 3-point mounted trencher – US Patent 4833797.
1992
Patent for a hydraulic stand that helps attach and remove a loader from a tractor – US Patent 5129780.
1993
Woods introduces the state-of-the-art model 3180 Batwing.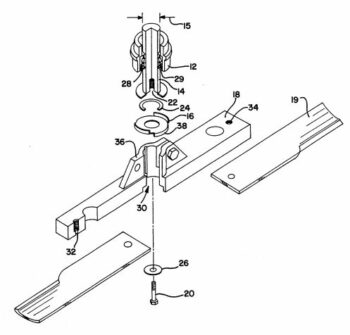 1995
Patent for a flanged washer that keeps debris from wrapping on a rotating shaft – US Patent 5404697.
1996
Patent for a drive system with a hollow shaft that can drive two spindles on the same axis – US Patent 5501636.
1997
Patent for a folding defoliator that can be folded for transport or storage – US Patent 5660034. By being foldable, the defoliator may be reduced to a much smaller width, making it safer to transport and easier to store.
1999
Patent for a hydraulic grapple that has precise clamping for excavators – US Patent 5865492.
2000
Woods introduces the first BrushBull™, a first of its kind single-spindle rotary cutter built for heavier duty mowing.
2000
Patent for a blade pin system that allows rotation of the pin and can be adjusted to tighten the cutter blade – US Patent 6055798. Permits easy field assembly and disassembly of pivoting blades from a crossbar or other support structure.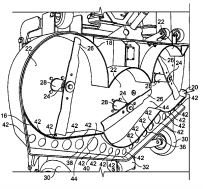 2008
Patent for a mowing deck baffle system that manages airflow for improved cut quality – US Patent 7062898.
2012
Woods introduces the first Precision Super Seeder. The seeder's ground driven technology and innovative calibration system dramatically reduce seed waste.
2014
The first overseas assembly of Woods products, led by the iconic Batwing® rotary cutters, commenced in Curitiba, Brazil.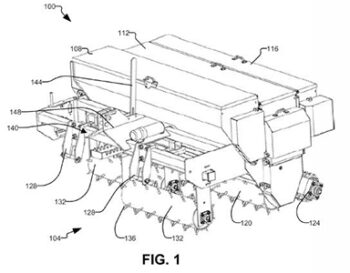 2016
Patent for a seeder with Interchangeable tillage tools – US Patent 9439343.
2018
Woods introduces a new 15-foot version of its flagship product, the BATWING® Rotary Cutter. Based on extensive customer input, the models offer more than a dozen exclusive time-saving and performance-enhancing features.
2018
Woods expands its reach in Europe, opening an assembly plant and warehouse in Belgium, offering prompt delivery and support of machines and repair parts.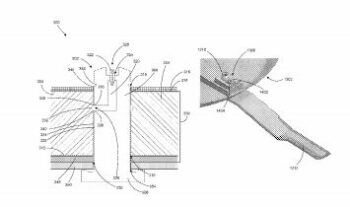 2019
Patent for a lubricated blade pin that makes changing rotary cutter blades easier – US Patent 10306832.
2019
Woods launches the first Compact Super Seeder. Designed on a smaller platform, the Compact Super Seeder boasts the same features as the popular Precision Super Seeder but allows for use with subcompact tractors, ATVs, and UTVs.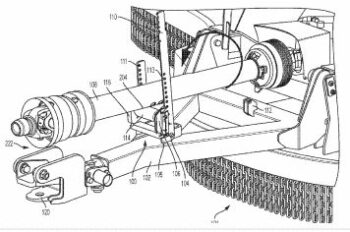 2020
Patent for Power Take Off Driveline Lift and Coupling Assist Device (PTO Lift Assist) awarded – US Patent 10794457. This patent makes it easier to attach a PTO shaft to a tractor.
2021
Woods launches the new TurfKeeperTM and TurfKeeper ProTM Rear-mount Rear-discharge Finish Mowers.