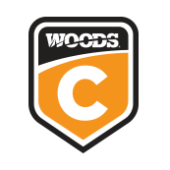 IMPLEMENTS FOR SUBCOMPACT AND COMPACT TRACTORS
Woods offers over 50 implements for Compact and Subcompact tractors. When you see this icon know that this equipment is right for your 40HP and under tractor.
Josh Draper, a social media personality known to more than 693,000 followers as, The Stoney Ridge Farmer, is a first-generation farmer in the North Carolina foothills of the Blue Ridge Mountains. We're excited to welcome Josh...
Progressive Forage magazine, a division of Progressive Publishing, featured the new Woods® Turf Batwing® finish mower line in its November 2022 New Product Rollout.   Progressive Publishing creates and distributes industry-focused magazines, email newsletters, and podcasts for...
In 2021, Woods® introduced 'Old Glory', a 15-ft Batwing® cutter wrapped in stars and stripes. The limited-edition Batwing® cutter was assembled in Oregon, IL by a team of Woods employees, including military veterans. Over the...