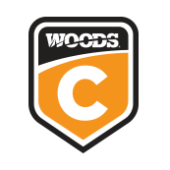 IMPLEMENTS FOR SUBCOMPACT AND COMPACT TRACTORS
Woods offers over 50 implements for Compact and Subcompact tractors. When you see this icon know that this equipment is right for your 40HP and under tractor.
In 2021, Woods® introduced 'Old Glory', a 15-ft Batwing® cutter wrapped in stars and stripes. The limited-edition Batwing® cutter was assembled in Oregon, IL by a team of Woods employees, including military veterans. Over the...
Have you checked out the new Woods Gear Store? We are excited to introduce a new look to our Woods Gear Store and new Woods Gear items. Brand new, high-quality Woods Gear merchandise is now available...
RFD-TV, the nation's first 24-hour television network featuring programming focused on agribusiness, equine, and rural lifestyles, recently highlighted a study that rated the TurfKeeper® and TurfKeeper Pro® #1 in overall cut quality. The research was...