Woods® all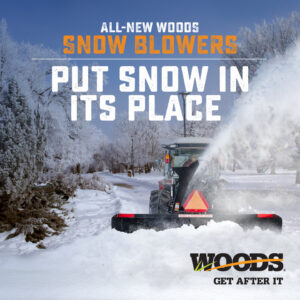 -new snow blower line is here to help you tackle whatever winter sends your way! Woods snow blowers are designed to handle tough, rural jobs and are engineered to run smoothly while clearing away heavy snow. With options to match a variety of tractors and applications, you don't need to wait for the first snowfall. Get your Woods snow blower now!
Woods snow blowers include several key advantages designed to help the attachment smoother and last longer:
A dynamically balanced auger and impeller for less vibration.
Heavy-duty reinforced housing to withstand hard impacts.
Unique shape of housing and impeller allows for processing very heavy snow.
Visit our product page to see all the features, benefits, and specifications of Woods all-new snow blowers!