New to the Groundbreaker? Here are six tips for getting the most out of your Groundbreaker backhoe.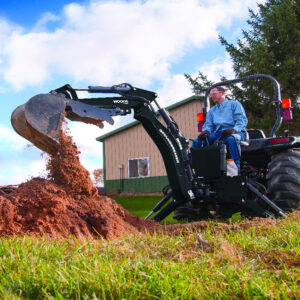 1. Choose the right bucket size for the job. A narrow bucket is ideal for trenching-in electrical and water lines without moving excess soil. Wide buckets are useful for large excavations but take note, the backhoe may pull the tractor around on hard, rocky soils. A medium-width bucket has many uses and is often a great first choice for new backhoe owners.
2.  Start slowly.  Start with the tractor at idle and increase as you become familiar with the controls. Spend five minutes getting used to what each control movement does before trying to dig a hole.
3.  Dig your first hole in a spot where it can easily be filled in before starting your real work.
4.  Relax.  The backhoe can move a surprising amount of material in a short time.  Grip the controls lightly and move them smoothly to provide the best control.  Pulling harder will not make the backhoe work harder.
5. Buy a backhoe large enough for the jobs you anticipate doing, plus a little more.  A sub-compact 6.5' backhoe can work very effectively to dig in electrical lines and place water lines below frost levels.  A compact 7.5' backhoe has a greater reach to dig faster and place soil further from the hole.  If you plan on digging graves, or placing heavy landscaping materials, an 8.5' or 10' backhoe will have the reach and lifting capacity needed for bigger jobs.
6. Buy the thumb.  Whether a simple, mechanical thumb, or a hydraulic thumb with independent control, the thumb will allow you to grip and move things too large to fit inside the bucket.  Consider what your job would be like if you didn't have your thumbs.
Interested in learning more about the Groundbreaker? Visit the product page and get to know all the key features and benefits.