Congratulations to Woods® District Manager, Kent Helbig!
Kent is the 2023 recipient of our Woods Heritage Award. This prestigious award is presented annually to the top Woods District Manager in North America, based on achieving multiple sales goals and the ability to manage his or her territory with integrity, professionalism, and humility.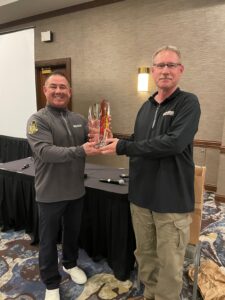 Kent has been a member of the Woods team for 19 years and appreciates the loyalty of our Woods dealers.
"There's nothing better than having generations of customers continue to purchase Woods because they want a quality product," Kent says. "I've been making a living selling Batwing® cutters for almost 20 years, and there's nothing finer. It's easy to sell a product that sells itself!"
When he's not at work, you can find Kent spending time with his family, fishing, motorcycle riding, and harvesting hay! Congratulations, Kent!