Spring is just around the corner! As your prepare to mow and grow, Woods® is excited to offer our customers this special spring promotion.
Now through April 30,2023, get rewarded for your purchase of a qualifying model Woods RC-Series cutter or Woods Rotary Tiller. Receive a $250 Visa gift card with your purchase of a qualified Woods Rotary Tiller and a $200 Visa gift card with your purchase of a qualified Woods RC-Series.
We've made it easy for you to cash in on this offer. Just got to the Spring Forward page of our website to submit an online claim or find mail-in information to secure your rebate.
Get to Know the Woods RC-Series Cutter
Clear brush, cut down weeds, and get ready for planting with our durable and dependable Woods RC-Series cutter.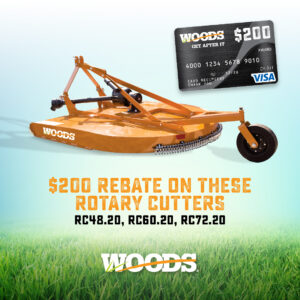 Stump jumpers for added driveline protection.
Unique smooth, sloped decks reduce debris build-up.
Built with high-strength steel.
Three-year gearbox warranty is one of the best in the industry.
Get to Know our Woods Rotary Tillers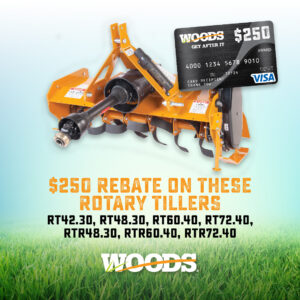 Available in forward and reverse rotation, Woods Rotary Tillers are engineered to chew up roots and tough garden residue. The ideal tool for:
     Small-acreage farming
     Hunting food plots
     Vegetable gardens
     Landscape maintenance
And, are backed by a three-year gearbox warranty including seals for peace of mind.
We encourage you to take advante of this exciting offer! Remember, you can use our dealer locator to find the Woods dealer nearest to you or contact Woods Customer Service with any additional questions.
Happy Spring!