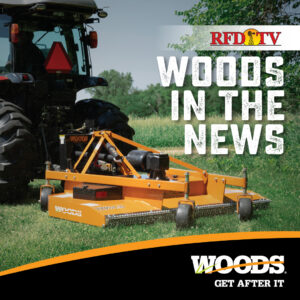 RFD-TV, the nation's first 24-hour television network featuring programming focused on agribusiness, equine, and rural lifestyles, recently highlighted a study that rated the TurfKeeper® and TurfKeeper Pro® #1 in overall cut quality. The research was conducted by a leading university in turfgrass management and involved the use of four top brands of rear-mount, rear-discharge, tractor-mounted finish mowers.
The finish mowers were evaluated based on their performance in key cut quality categories: evenness of cut, material distribution, and clipping dispersal. The TurfKeeper standard-duty and TurfKeeper Pro premium-duty finish mowers were proven to outperform three competitive models in each of the measured test categories resulting in the best overall cut quality.
RFD-TV produces six hours of live news each weekday in support of rural America and is a leading independent cable channel available in more than 52 million homes.
Download the complete cut-quality study and read the full article at RFD-TV. Check out our complete line of Woods finish mowers by visiting our product page.
And, prepare-to-be wowed by the all-new commercial Turf Batwing® finish mower debuting at the Ohio State Farm Science Review on September 20th. The new TBW models boast increased durability, easier maintenance, and includes the cutting technology from the #1 rated TurfKeeper Pro.
If you liked this article by Woods, you might also like:
– Woods® to Debut the All-New Commercial Turf Batwing at the Ohio State Farm Science Review